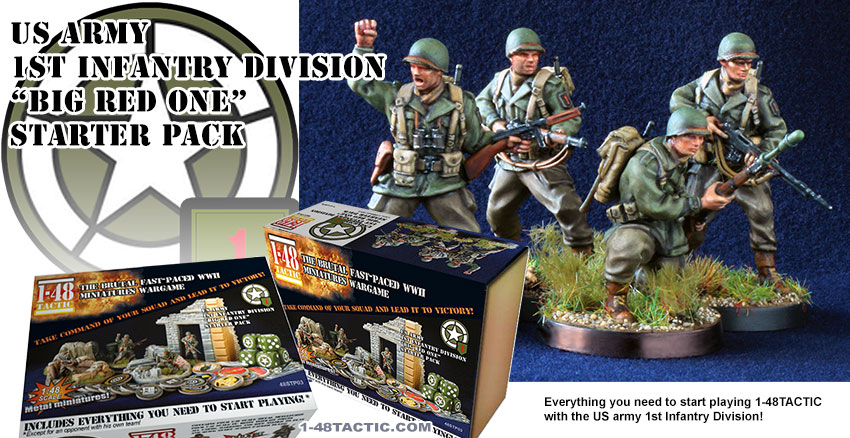 RESIN FIGURES NOW AVAILABLE!
US ARMY 1st Infantry Division ("Big Red One") RESIN FIGURES Starter Pack
---
LIMITED EDITION METAL FIGURES SET
US ARMY 1st Infantry Division ("Big Red One") METAL FIGURES Starter Pack
---
PLEASE NOTE you will need to download this little rule excerpt from 1-48TACTIC ACHTUNG PANZER! - Rifle grenade and bazooka rules
To use the weapon one of these figures is armed with:

2.79 MB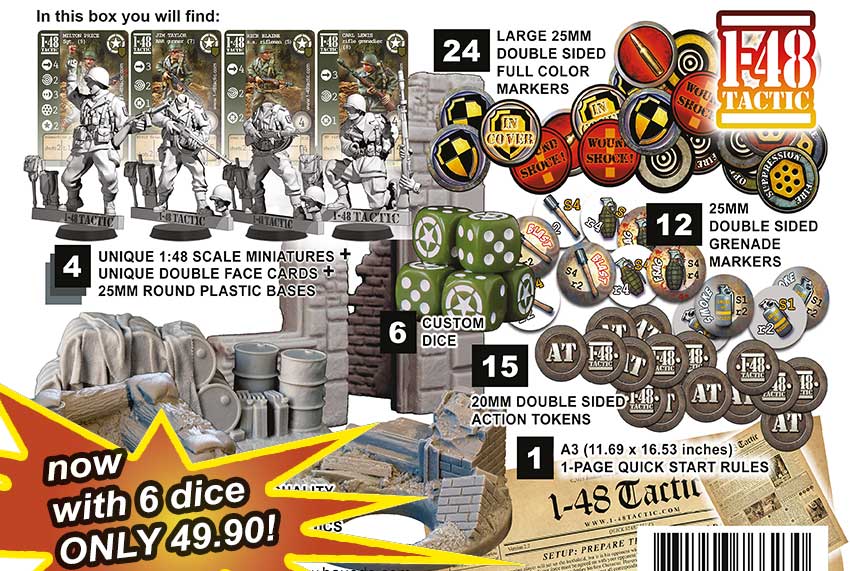 Product Code: 48DS03

12 US Infantry faction dice + exclusive limited edition weapon card: EURO€ 15.90

Please note:
there are already 6 dice included in the US Infantry Starter Pack!
Product Code: 48MTS03



One full set of 48 HEAVY METAL tokens (jewellery grade lead free alloy), including 12 x US Infantry themed AT, 6 x Take Cover markers, 6 x Wound Shock markers, 6 x Opportunity fire markers, 6 x Suppression fire markers, 6 x concussion grenade, 4 x frag grenade and 2 x smoke grenade markers: EURO€ 35.50

Please note:
these are NOT the cardboard ones included in the US Airborne Starter Pack!
If you want more or those they are available in the RULES page!

You can also order separate HEAVY METAL (lead free) markers and tokens!

Free cards to try what it is like to play with US forces are available now: get them here!!

COMING SOON: more amazing US Infantry Characters!